2017
| | |
| --- | --- |
| Feb | Ruhango TAG, Huye TAG, Kigali Tag, Muhanga TAG |
| Mar | Rusizi TAG |
| Apr | |
| May | Women's 7s, Huye 7s |
| June | Ruhango TAG, Ruhango 7s, Huye TAG, Kigali TAG, Kigali 7s |
| July | Rusizi TAG, Rusizi 7s |
| Aug | |
| Sept | National 7s Finals |
| Oct | Women's 7s |
| | | | |
| --- | --- | --- | --- |
|   | TOURNAMENT | DATE | WINNER |
| 1 | MUHANGA TAG | 23/05/2015 | REMERA |
| 2 | KARONGI TAG | 20/06/2015 | RUBENGERA ADVENTIST |
| 3 | RUSIZI TAG | 27/06/2015 | ECPS TARA |
| 4 | GAKENKE TAG | 28/06/2015 | GS NGANZO |
| 5 | RUHANGO TAG | 28/06/2015 | MUSAMO |
| 6 | MUHANGA 7`s | 04/07/2015 | GS GITARAMA |
| 7 | RUHANGO 7's | 05/07/2015 | ET MUKINGI |
| 8 | HUYE TAG | 07/07/2015 | TUMBA PRIMARY |
| 9 | MUSANZE TAG | 18/07/2015 | GASHANGIRO |
| 10 | KIGALI TAG | 19/07/2015 | SHARKS |
| 11 | GAKENKE TAG | 26/07/2015 | GIRAMAHORO |
| 12 | RWAMAGANA TAG | 28/08/2015 | EXCEL BILINGUAL |
| 13 | HUYE 7`s | 12/09/2015 | EAV KABUTARE |
| 14 | KIGALI 7's | 12/09/2015 | GS BUGOBA |
| 15 | RUHANGO WOMEN'S 7's | 13/09/2015 | GS NYAMAGANA |
| 16 | KARONGI TAG | 09/10/2015 | RUBENGERA PROTESTANT |
| 17 | MUHANGA TAG | 17/10/2015 | REMERA PRIMARY |
| 18 | HUYE TAG | 30/10/2015 | FAITH PREPARATORY ACADEMY |
9th October 2015 – Karongi TAG tournament
19th September 2015 – National Schools 7's Final Tournament
FoRR organized the national schools finals seven aside tournament in order to celebrate "Peace One Day"
6 regional winners participated in the event and played as follows:
Pool A: ET MUKINGI,GSGITARAMA and GS NGANZO
Pool B: APICUR, GS BUGOBA and EAV KABUTARE
Matches results:                                         
1.ET MUKINGI vs GS GITARAMA          21-17
2.APICUR         vs GS BUGOBA               19-0
3.GS NGANZO vs GS GITARAMA           0-17
4.GS BUGOBA vs EAV KABUTARE        0-  26
5.ETM MUKINGI vs NGANZO                  42-0
6.APICUR            vs EAV KABUTARE      12-7
Semi final: ET MUKINGI vs EAV KABUTARE  31-7
Semi final APICUR vs GS GITARAMA        14-0
Final: ET MUKINGI vs APICUR          47-5
We would like to congratulate the participating teams especially the winning team ET MUKINGI who showed their experience from the East Africa Schools Championship edition 2015. Their scrum half Patrick IKORUKWISHAKA was named man of the tournament after scoring 14 tries and he helped his team to win the final of the event.
13th September – Ruhango Women's Tournament
12th September 2015 – Kigali 7's Tournament.
Three teams included GS BUGOBA, ASPEKA KAYENZI and ISETAR RUNDA played each other in order to get the winning team to participate in schools Seven aside tournament scheduled on 20/09/2015. The winner was GS BUGOBA after beating ASPEKA KAYENZI at the final pool game 10-7.
12th September 2015 – Huye 7's Tournament
Five schools included GS CYANIKA,GS DON BOSCO CYANIKA,REGINA PACIS SCHOOL EAV KABUTARE and GS DON BOSCO NYAMAGABE played at EAV Kabutare and the winner was EAV Kabutare after beating GS St Nicolas CYANIKA 33-7
28th August 2015 – Rwamagana TAG
27th/28th July 2015 National Interschool FEASSA Selection Tournament
Monday and Tuesday the interschools secondary schools championship semi finals+finals took place in Muhanga District. 6 Secondary schools GS St FAMILLE, ECOLE TECHNIQUE MUKINGI, ASPEKA Kayenzi, EAV Kabutare, APICUR and TTC Mururu competed in order to get three teams to represent Rwanda in East Africa Secondary schools Championship edition 2015 to be held in Rwanda in August from 14-23/08/2015 in Huye District. The winners of the tournament are included:
1. ET MUKINGI won the trophy+ 100,000 frs
2. GS St Famille  80,000 frs
3. APICUR            60,000 frs
4. TTC MURURU 40,000 frs
**(Prize money not provided by FoRR)
26th July 2015 – Gekenke Tag
Another successful Tag Rugby tournament on Sunday,26/07/2015 at NYABUTAKA Ground in Gakenke District. 5 Primary schools included GS NGANZO, GS NYUNDO, Mataba, GIRAMAHORO, KARUGANDA played a tag rugby tournament in order to give student the chance to play in competition. The winner was GIRAMAHORO Primary after beating GS Nganzo 25 points to 5 Points.
19th July 2015 – Kigali Tag
Kigali Tag Rugby tournament participants were ROP A and B, MEG Foundation A and B, The Buffaloes, The Sharks and Thousand Hills. The winner was the Sharks after beating Thousand Hills 25 to 15 at the final match.
18th July 2015 – Musanze Tag
The weekend saw another successful Tag Rugby tournaments take place in Musanze District where 7 teams of primary kids competed including: Kabaya Saints and Wallabies, GASHANGIRO Drogons and Tigers , FATIMA Lions and Super Stars AND Nyamagumba. The winner of Musanze Tag Rugby tournament was GASHANGIRO Dragons  after beating Kabaya Wallabies 25 to 5 in the final.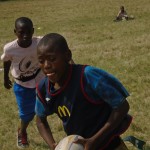 7th July – Huye Tag
5th July 2015 – Ruhango 7's
GS NYAMAGANA, GS INDANGABUREZI, NYANZA TECHNICAL SCHOOL ex ETO GITARAMA, ES TRINITY, LYCEE DE RUHANGO, EMERU, GS GITISI and ET MUKINGI all took part in this regional tournament. ET MUKINGI took home the trophy for the 5th year in a row defeating NYANZA Technical School ex ETO Gitarama in the final.
4th July 2015 – Muhanga 7's
GS Shyogwe, GS MUNYINYA, MUHANGA Tecnical Center, ACEJ KARAMA, GS NYABISINDU, GS GITARAMA  all competed in a great tournament. GS GITARAMA defeated ACEJ Karama in the final 19-5.
28 June 2015 – Ruhango Tag
Yesterday saw 11 primary schools from Ruhango District met at Kibingo Ground to play a fantstic tag rugby tournament in order to celebrate the Olympic week .
Participating teams are included: 1.GS NYAMAGANA 2.GS RUHANGO CATHOLIC 3.EP GITISI CATHOLIC 4.KAGEYO 5.KIZIBERE 6.MUSAMO 7.MUNINI 8.ADPR 9.GS GITISI CATHOLIC 10.AMIZERO 11.RUHANGO ADVENTIST. The winner of the tournament was MUSAMO Primary after beating GS NYAMAGANA 15 to 10 at the final match in front of 200 spectators. The tournament was organized by our Rugby Development Officer in Ruhango District IZABAYO Joseph.
28th June 2015 – Gekenke TAG Tournament
Our Rugby Development Officer in Gakenke District UMUTONI Jean Marie Vianney presenting the Trophy to the winning team Captain Tuyizere Protais of GS NGANZO after beating GS Nyundo 41 to 10 at Nemba Ground in Gakenke seven aside tournament.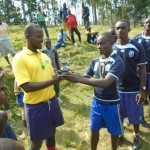 27th June 2015 – Rusizi TAG Tournament
Fantastic tournament and smiles of ECPS Tara boys and girls after winning the RUSIZI Tag Rugby tournament on Saturday  at TTC Mururu ground all to celebrate the Olympic week. This is what FoRR want to achieve!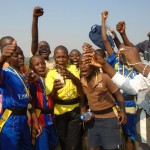 26 June 2015 – Karongi Tournament
21 June 2015 – Interschool Quarter Finals
23 May 2015 – Muhanga Tag
The weekend saw 8 primary schools including Gitarama, Gahogo, Remera, Ruli, Shyogwe, Kabgayi, Munyinya and Mbare play a tag rugby tournament held at Kabgayi Ground. The tournament started at 11 am because of the community work "UMUGANDA" and all invited teams attended the tournament with their sports teachers. The teams were divided into two pools that played each other. The tournament ended at 4 pm with the champions being Remera primary school after beating Mbare primary schools 35 points to 30 in the final. 
18th May – Interschool Tournament
G.S.Gitarama celebrate their win last Sunday in inter-schools league in Muhanga district. 5 schools was participates in the tournament including: ACEj Karama, G.S Shyogwe, E.S Buringa, G.S. Gitarama and new school called Muhanga Technical Center ( MTC). It was an amazing thing to see how all the people including the players, the fans, the officials,,, who watched the games how they were very happy and surprised about the friendship, enjoyment among the rugby players. All the… teams played well and show the public that they have the players with talents of rugby. G.S. Gitarama was qualified in next stage of inter-schools league after beating E.S Buringa 43 null where it will meet with the others team from differents district.  Big thanks to Friends of Rwandan Rugby for providing many thing required in order to make all this happen in Rwanda.