A personal account of the volunteer coaching trip to Rwanda in February 2014 by Matthew Beddow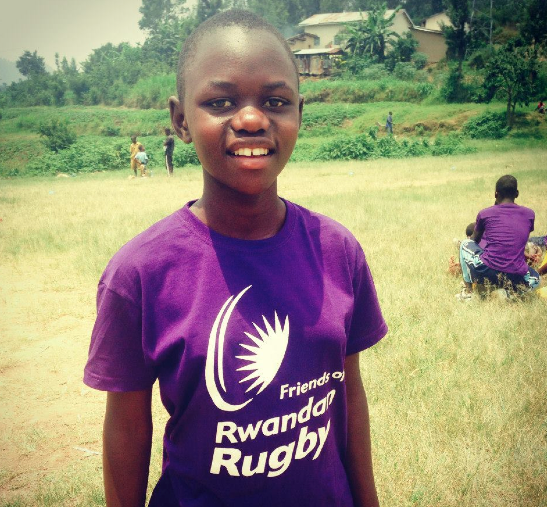 On a humid Friday morning on the western edge of Rwanda huddled in a tight circle at the end of a pitch of dust, stones and grass surrounded by banana trees, fields of sugar cane and maize the Rubengera Angels prepare to face their arch rivals the Rubengera Jaguars in the Friends of Rwandan Rugby (FoRR) Karongi District Tag Rugby Final.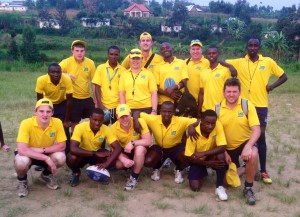 Eight days earlier at Heathrow Airport for the first time Matt, Lewis, Helena, Pete, Nick, Tim and Matt (That's me), all met for the first time.  All excited about the trip we had been looking forward to but also all a little apprehensive about the unknown.  We sorted through 200 rugby jerseys, 206 balls, 360 tag belts in the departure hall to make sure we carried as much rugby kit as possible out to Rwanda.  A kind of team building exercise as it turned out!
Within an hour we had been christened with new "tour names" and Saucy, Pampers, Sharky, Pistol, Dick, "Just Tim" and Big Bad boarded the brand new Boeing 787 Dreamliner Plus (Turns out Saucy likes his planes) to Addis Ababa on the first leg of our overnight trip to Kigali.
After a short stop off at Addis Ababa, a couple of laps of the terminal and a warm fruit salad it was back on the plane and out onto the tarmac of Kigali Airport.  We were met by the leader of the FoRR programme in Rwanda, the aptly named Kamanda, and loaded the mini bus with our 14 bags of rugby kit before heading into the city.
Like the rest of Rwanda, Kigali is a city of hills and valleys.  It's said Rwanda is a country of a thousand hills but to me it seems far more like 10,000!  We stay for two nights at a hostel just a short walk from the commercial centre and its hectic market as well as the Hôtel des Mille Collines (THE Hotel Rwanda).  On Saturday morning we head to the school behind the hostel and get involved in our first rugby session.  And it was great.  When we arrived the footballers jokingly jeered at our funny shaped ball but the team Kamanda coaches every Saturday were fantastic and clearly loved the game.  I haven't played for a long time so was consigned to the role of red-faced white guy hanging around on the wing calling in vain for the ball but it was a lot of fun.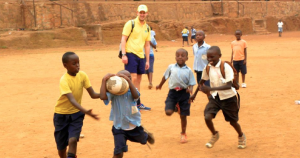 We left the school for a very sobering visit to the genocide memorial where the history of the terrible months in 1994 are recorded for all.  The sight of toddlers' shoes, the same as worn by my own children, in a display case of infant bones was devastating.  I left with a sense of what the people we were to meet throughout the trip had gone through but also with an understanding that the old Rwanda was no more and a very new one was emerging every day.  One family.
From there we were privileged to visit the Rwandan Orphan Project (ROP) and meet the people who care for those children who for a wide range of complicated and saddening reasons have been left with no family.  Some for a period, some permanently and some found living on the streets at far too young an age.  We will always remember an afternoon on the red earth of Kigali teaching a sport we love to kids who show such positivity and joy while recovering from situations no child should ever have to endure.
On Sunday we headed out to Karongi to meet the teachers and the children we would be spending the rest of the week with.  On a twisting winding road with spectacular views on left and right (that would be at home in any episode of Top Gear) we headed out to the western border of Rwanda to the village of Rubengera.   A short bus ride from the 60 mile long Lake Kivu.
We also met the FoRR Rugby Development Officers who were to be our guides and mentors and who all became our good friends during the week.  Mathieu, JP, Alex, Laurien, Felix, Claude and Regis worked with us every day in the schools as well has sharing a couple of beers every evening after the days coaching was over.
We stayed at a church retreat, on the outskirts of the village and were again made to feel very welcome.  Any group of people walking around a small village in BRIGHT YELLOW t-shirts and caps is going to attract attention not to mention a group of white faces in a rural Rwandan community.  The beauty of being based in a village like this for a week is that people get to know you and want to know what we are doing.
We coached in pairs at our three schools and helped the Rwandan RDO's to select and coach a new generation of rugby players. Each of our schools were different and we all faced challenges the RDO's are all to familiar with when introducing a new sport to schools in Rwanda.
The kids embraced us and our game completely and ran out to greet us every day in droves.  Always enthusiastic, always keen to learn, often running out of lessons before being given permission to and always pleased to be part of a new experience.  Our message to have fun and be part of a team while learning was not lost on them.
Rwanda threw a surprise at us every single day.  In fact there were usually two or three incidents a day that stopped you in your tracks!
–       The man who stopped two of the team in the street to thank them for coming to Rwanda and telling them about his families experience of the genocide;
–       The 1,000 strong town meeting complete with choirs and voting officials dressed as Greek gods that turned up during one coaching session;
–       The evening at the secondary school coaching rugby while 4 choirs in class rooms surrounding the pitch sang their hearts out;
–       The impromptu visit to a church that ended in us staying for an hour and being asked to give a speech to the 400 strong congregation who were keen to know what we were doing;
–       The whole of one school being led out to the pitch we were playing on to serve a mass detention in silence for laughing at the head mistress while we were asked to play on.
I could go on . . . and on . . . and on.
The way that the kids learnt the game so quickly was amazing and there was some real talent on show.   In my group alone there was a 7 year old girls who took running lines like Jeremy Guscott (And was just as elusive), Alex squeezed out impossible passes like Richie McCall (And got away with as many infringements) and Vincent had the instincts for finishing like Jason Robinson (With a side step as good as any)!  Brilliant to watch and to teach.
So after 4 days of coaching the teams of boys and girls under 8 were selected and the tournament kicked off!  To see all of our kids play the game with such heart and enthusiasm was fantastic.  As we all watched on and gave instructions all I can say is that the dust must have been getting into lots of our eyes!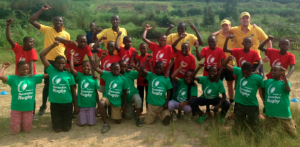 As the teams line up for the pre-final photograph our In the middle of the teams of kids aging from 6 to 9 stand red faced, heavily perspiring white people ("Myzungu") in bright yellow hats and t-shirts giving their charges last minute tips on running lines, passing technique and game management (Perhaps not the last one).
Its impossible to imagine that just 20 years ago this very town, and probably this very pitch, witnessed some of the most ferocious attacks that took place in the Rwandan genocide.   It is estimated that 90% of the town's Tutsi population were killed in the 100 days that saw between 500,000 and 800,000 people killed in Rwanda.
Standing in this innocuous field on the edge of a friendly and welcoming community myself and 6 other volunteers have during this week all been deeply moved by this country, its men, women and children and have been first hand witnesses to the continuing story of reconciliation and transformation that is Rwanda.
Whatever preconceptions I may have had about Rwanda were dispelled as soon as I stepped off the plane.    Rwanda provides surprises around every corner and every time you think you know what to expect the unexpected of course happens.   As I write this it is 20 years since the genocide in Rwanda and many many people are working very very hard to make sure it never happens again and Friends of Rwandan Rugby are certainly playing their part.  One family.